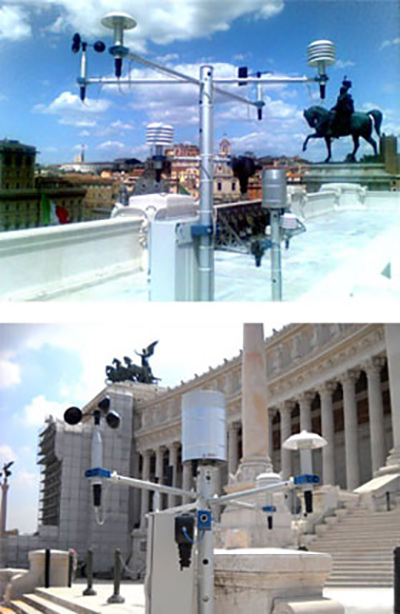 "Altare della Patria" is an Italian national monument built in honor of Vittorio Emanuele II since 1885, and it is located in Piazza Venezia in Rome, is one of the most celebrated architectural works by Italian people but also by the large number of tourists who crowd its stairs.
Because of its importance, it is constantly controlled and monitored in order to maintain in perfect condition all the monument's surfaces made of precious white marble and its columns.
In last decades, also because of air pollution and environmental conditions, there were phenomena of chemical attack which required important restoration and maintenance.
Since 2007, in collaboration with ICR (Central Institute for Restoration), a project has started for monitoring weather and climatic conditions and concentration of SO2 , that causes the degradation of marble, paying attention to the temperature of surfaces.
Nesa was chosen for this project and installed its own monitoring station that measures about fifteen parameters, processes and stores them every 10 minutes.
All data acquired are constantly sent to a website where, using a GPRS transmission system with FTP standard protocol, the university, ICR and technicians can view data anytime and constantly control the essential parameters that describe the condition of the monument's surfaces in question, allowing them to collect a large amount of information for planning designed actions when necessary.
The station is located at the top of the monument (red circle) in order to minimize the visual impact, and it is designed in order to not alter in any manner the appearance of "Altare della Patria", while acquiring measurements significantly correct.
Nesa, even in this case, confirmed itself as ideal partner able to study and provide specific solutions and high performance.
To date this is the only station of its kind that could be installed on a national monument so much important.